TYPES KVSU, KVS UNIVERSAL OKLIP
---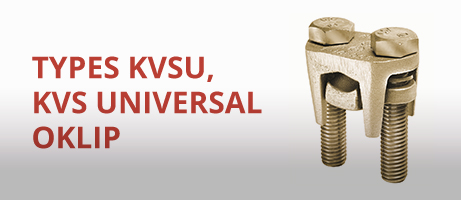 Mechanical Connector for All Combinations of Copper, Aluminum†, ACSR†, AAAC and 5005

Compact, tin-plated, high strength, high copper allow two-piece connector with spacer and tin-plated silicone bronze DURIUM™ hardware. Recommended for heavy duty connections. Spacer separates dissimilar conductors and provides long contact length. Neoprene ring prevents loss of shorter bolt during installation. Longer peened bolt, permits swivel action for easier installation.
Use of PENETROX™ joint compound recommended with aluminum and ACSR.