PN-RK_SP (250V) Class RK1 & LPS-RK_SP (600V) Class RK1
---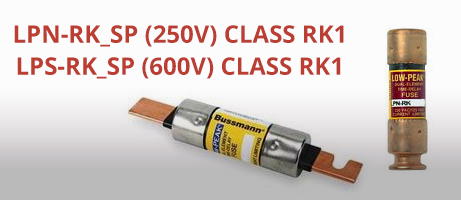 Now Available With Optional Indication

Specifications Description:

Current-limiting, dual-element, time-delay fuse:

Features and Benefits

· Separate overload and short-circuit elements provide time delay for close sizing of high inrush loads linked with K1 current-limitation and selective coordination ratio of 2:1 (within Low-Peak fuse family) prevents widespread blackouts.

· Inventory consolidation of Class RK1, RK5 and H fuses for reduced SKU investment and minimizing potential for misapplying fuse.

· 300,000A RMS symmetrical interrupting rating provides adequate ratings without obsolescence for all electrical systems, big or small.

· Insulated end caps reduces exposure to live parts and extends air gap to distance between blades of adjacent mounted fuses or to housing.