Unions and Elbows
---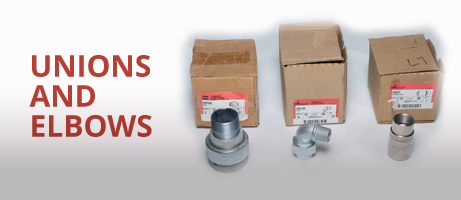 Applications:
UNY and UNF unions are installed in threaded thickwall conduit systems:
UNY – to connect conduit to a conduit fitting junction box or device enclosure
UNF – to connect conduit to conduit, or to provide a means for future modification of the conduit system
UNA unions are used in conduit and fitting installations when entrance angle is between 90 and 180.
EL elbows are installed in conduit run or in box or fitting hub:
To change direction in threaded rigid conduit run by 90, or when termination at a box or fitting.
Features:
UNY, UNF and UNL unions have
Compact design which permits assembly with a minimum of clearance to other adjacent conduit and/or equipment
Strong and durable construction
UNA unions:
Have a single clamping not on angle, making it both a union and a connector
Permit conduit joints at angles between 90 and 180
EL elbows have a smooth interior and are both strong and compact.
Certifications and Compliances:
NEC/CES:
Class I, Division 1 & 2, Groups A,B,C,D
Class II, Division 1, Group E, F, G
Class II, Division 2, Groups F,G
Class III
EL ½ , ¾ , 1
UNF/UNY 105, -215, -205, -305
UNL 105, -125, -2155, -205
Class I, Division 1 & 2, Groups B,C,D
Class II, Division 1, Group E, F, G
Class II, Division 2, Groups F,G
Class III
UNF/UNY406, -506
-606, -706, -806
-905, -1005
Class I, Division 1 & 2, Groups C,D
Class II, Division 1, Group E, F, G
Class II, Division 2, Groups F,G
Class III
EL, UNF, UNL, UNY – all sizes
Class I, Division 1 & 2, Group D
Class II, Division 1, Groups E, F, G
Class II, Division 2, Groups F,G
Class III
UNA
UL Standard: 886
CSA Standard: C22.2 No.30
Standard Materials:
UNY, UNF unions – ½ to 1 – steel
UNY, UNF unions – 1 ¼ to 6 – Feraloy iron alloy
UNL, UNA unions – Feraloy iron alloy
EL elbows – Feraloy iron alloy or ductile iron
Standard Finishes:
Steel – electrogalvanized with chromate treatment
Feraloy iron alloy, malleable iron – electrogalvanized and aluminum acrtlic paint
Options:
Description Suffix
Copper-free aluminum SA
Not available on UNA or 5 and 6 UNY/UNF