INSULGRIP Pin & Sleeve Devices Features and Benefits, Hubbell Offers Two Approaches
---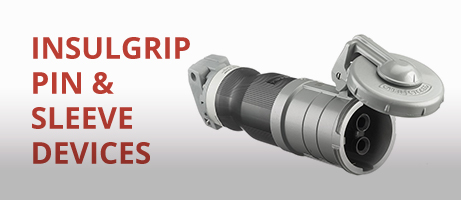 Ground Path
To reduce the likelihood of electrical shock, the National Electrical Code requires that non-current carrying metallic components be grounded Insulgrip Pin & Sleeve wiring devices offer two styles of grounding.

Style I
Receptacles achieve grounding by attaching the ground conductor to the ground screw inside the back box and utilizing the metallic receptacle shell as a ground source (see 3P4W Style I illustration). Plugs and connectors establish grounding by means of connecting the flexible cable ground conductor to a ground terminal within each device, which in turn, is grounded through the metallic plug or connector shroud. Any exposed metallic components are suitably grounded in the Style I offering.

Style II
The Style II ground path offers two means of achieving the proper ground path. In addition to utilizing the same grounding method as in the Style I product, the Style II version incorporates a separate ground pin and sleeve (see 3P4W style II illustration). This provides a second ground path. The ground pin on Style II devices is longer than other pins, meaning that they "make first" and "break last," assuring protection for people and equipment.