Heavy Duty Starters
---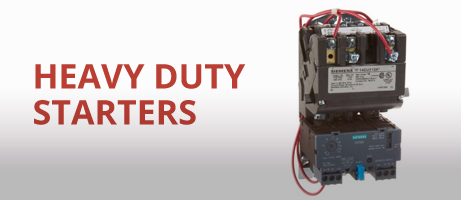 Standard Features

Size 00-4 magnetic starters include the following standard features:

· Rugged Industrial Design

· Half Sizes for Cost and Space Savings

· Dual Voltage, Dual Frequency Coils

· Solid State or Ambient Compensated Bimetal Overload Protection

· Wide Range of Accessories

· Easy Coil Access

· Overload Test Feature

· Straight Thru Wiring

· Gravity Dropout

· Large Silver Cadmium Contacts

Application

Heavy Duty starters are designed for across the line starting of singe phase and pokyphase motors.

These controls are available in NEMA Sizes 00 through 8. In addition to the usual NEMA Starter Sizes, Siemens offers three exclusive Half Sizes; 1 3/4 2 1/2 and 3 1/2. These integral sizes offer the same rugged, industrial construction as our NEMA Sizes and ensure efficient operationg performance. Half Sizes provide a read cost savings by cutting down on over capacity when NEMA Sizes exceed the motor ratings. All Siemens Heavy Duty controls, including our popular Half Sizes comply with applicable NEMA and UL tests.

All starters are supplied with a NO holding interlock that in conjunctions with an appropriate pilot device will provide low voltage protection or release.

NEMA starters are idea for applications requiring dependability and durability. Typical applications include use with machine tools, air conditioning equipmen, compressors, hoists and various production and industrial equipments as well as in demanding automotice applications.

Starters are available as an open type or in NEMA 1, 12/3/3R, 4 (painted), 4/4X (stainless), 4X (fiberglass), and 7 & 9 enclosures.