J-Line Interconnection System
---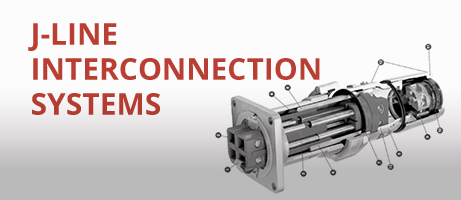 30-200/270 Amp, (30-200A Load Breaking) Maximum 600 VAC/25- VDC
Load Breaking Receptacles, Plug, Connectors & Inlets

Design Features
Russellstoll J-Line Load Breaking Plugs, Connectors and Receptacles

Circuit interrupting rated safety.
Cast aluminum, corrosion resistant copper free alloy housings and enclosures provide light weight and maximum corrosion resistance, along with electrostatic epoxy powder coat finish.
Quick conversion between watertight flap cover and watertight screw cap assemblies. Basic receptacle housing accommodates both covers and is the basic component of all complete units. All watertight configured plugs may be used interchangeably.
Two grounding arrangements (Style No. 1 and Style No. 2).
Four Complete J-Lines
30,60,100 and 200 Amps, 600 Volts, A.C. 250 Volts, D.C. (plus 150A/270A specials)
Flap cover can be rotated and locked in any convenient position.
Pressure type solderless wiring terminals.
Silver plated contracts.
One-piece interior assemblies. Interchangeable from regular to reserve service in the field with a screwdriver.
Wiring space
Ample for maximum requirements.
Cable Clamps
Adjustable, for maximum range of cable size. Oil resistant neoprene strain-relief bushing compresses around cable tightly, prevents entry of dust and moisture.
Polarization
Provides positive non-interchangeability for different electrical systems.
Reversed contracts flexibility male-female reversed installation within any housing.