MaxGard Interconnection Systems
---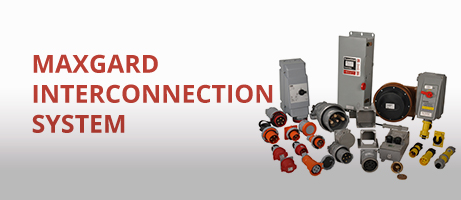 30-400/600 Amp. (30-200A Load Breaking) Maximum 600 600 VAC/250 VDC
Receptacles, Inlets, Plugs, Connectors, Interlocked Receptacles, Explosion Proof Interlocked Receptacles

Benefits
Russellstoll builds a variety of benefits into one plug, receptacle and interlock system for your application.
The MaxGard system. MAXimum Safety, Durability and Performance in electrical interconnections.

Safety:
Waterproof construction: standard neoprene "O" ringed interior components provide environmental at the front of each device; they don't have to be connected together just to be called "watertight."
Different power supply rating can't mix: 24 single rated device polarizations ensure exact voltage, frequency and phase differentiation plus a few specials too. In every current range.
Plugs stay in: Standard delayed action pull & turn withdrawal offers all plugs an XP rating (30-100 amps). All system components use mating screw collars.
Foreign objects stay out: All receptacles and connectors have a gated rotating disk on the face of the interior engaged on insertion.

Durability:
At last – Durability: Rugged cast aluminum housing with 2 layers of electrostatic epoxy coating are standard, along with stainless steel hardware. Available with flap or screw covers. Interiors are molded from a tough reinforced UL94 VO thermoset polyester.
The best connections for life: Pins and Sleeves are made from CDA 360 and Marine grade CDA 485 brass; 200 and 400 amp lines are silver-plated as well.
The most power available in the most packages: 30,60, 100,200 and 400 amp lines in one system with cast aluminum NEMA 4X interlocks, steel 30,60,and 100 amp NEMA 12 interlocks, or cast aluminum XP interlocks in 30, 60 and 100 amp ranges.

Performance:
Any configurations you need: Through 4 pole 5 wire configurations, all have a safety center earth ground pin design that makes-first and breaks last. This applies to all of our plugs, connectors, receptacles, male inlets and inter-lock system.
More control available: Two optimal pilot/control pins for contractors, load monitor circuits, shunt trip or any other communication functions you need.
Easy of assembly: solderless pressure type screw terminals with hex socket heads and read-access take apart housings provide quick wiring access. No interior removal required for wiring receptacles and connectors.
More Power: 150% non-UL ratings allow extending MaxGard installation to 600 AMP custom loads, with separate disconnect service.